A Fisherman's Tale
Immersed in a life of urbanization, many have forgotten the humble beginnings, when life was simple, untouched by urban developments. May we offer you with an opportunity to relive the past, going back time to the 1960s and experiencing the fulfillment brought about by a rural way of life.
We present you, a journey to the last of the kampongs in Singapore that has resisted urban development.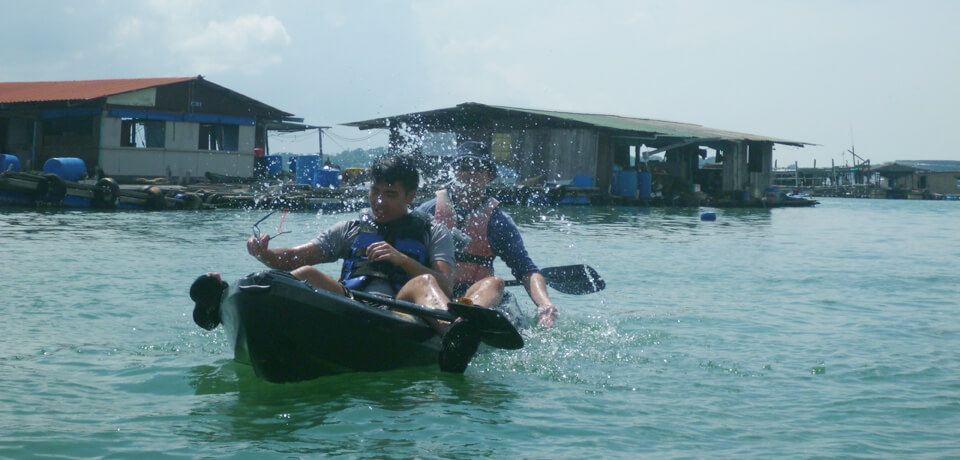 Paddling towards Pulau Ubin, you will be overwhelming by the simplicity of livelihood that embraces the island. With the soul in harmony, you are brought back to the beginnings of civilization by a visit to Ubin town/fish farm, where you will be treated with servings from the island.
Come join us for visit in time where it all begins, before it fades away, along with the last of the kampong generation.
Your Equipments - CABO by OCEAN KAYAKS
Popular model for single or multi day adventures.
It's easy to paddle, stable and fast with great tracking. Large hatch with big in-hull storage capacity. Set it up for scuba-diving, snorkelling or spear fishing. It comes complete with four flush-mount rod holders, transducer scupper, rear tank well and three seating positions. Ideal as a tandem fishing kayak, or set up for a single fisherman.
Optional position for centrally locating foot pedals for single paddler use.
Used extensively for our expeditions, the Cabo is a safe and efficient all weather and terrain tandem kayak ideal for all skill levels.