Essential Kayaking Tips
With proper demonstrations and the right tips to get you started, anyone can have a successful day and a great time kayaking. Kayaking is an amazing way to access the world out at sea. At Adventurepaddlers, we love what we do, and your safety and fun are our highest priorities.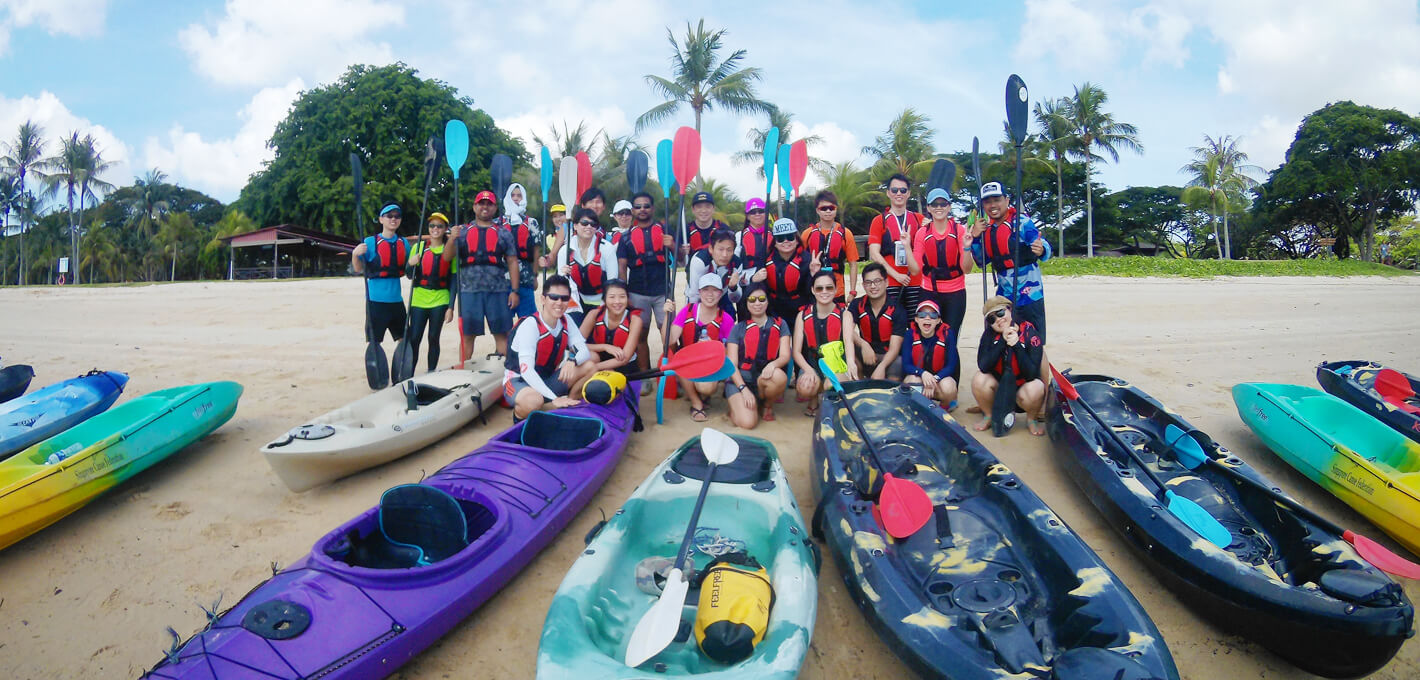 1. Dress Appropriately while considering the Water Temperature
Some people make the mistake of dressing for the outside temperature when they prepare for kayaking instead of how cold or warm the water is. If you tip your kayak, you will probably never again need to be reminded to dress for water temperature. During wet weather/monsoon season, we recommend layering quick-drying clothes and using a comfortable pair of water shoes or strap-on sandals suitable for the activity.
2. Choosing the right kayak
When being outfitted with a kayak, make sure you have one that is appropriate for your level of experience, sea conditions and the type of expedition. We can help determine what kayak is best for you based on your needs. Tandem kayaks, for example, are less inclined to tip and are great for beginners.
3. Know Your Limitations, along with that of your fellow participants
Like any other sport, kayaking safely requires that you know what your capabilities are and respect them. Go easy on yourself, have fun and stay focused on the basic techniques. Trust your expedition guide and be mindful of arising risk out at sea.
4. Watch Your Kayaking Position
The most important thing you can do to maximize your effectiveness is to sit up straight and lean slightly forward. The further back you sit, the less control you will have over your kayak.
5. Knowing the capsize drill
If your kayak tips, it is important to know what to do once in the water, and how to get back into the kayak. We will provide you with instructions to safely handle a tipped kayak before we start our trip. Do not panic and recover safely.
6. Choose Your route Wisely
If you are new to kayaking or simply aren't comfortable in certain types of water, being mindful this will help ensure you have a pleasant time kayaking. There is no reason to paddle into rough waters and unfamiliar routes, when you ae not prepared.
7. Stay Hydrate
When you are on the water and paddling for extended periods of time, it is amazing how much water you can go through especially in our climate. Always be prepared and bring more water than you think you will need.
8. Practice getting In & Out of Kayak safely
Before you push off and start your kayak tour, it is a good idea to get familiar with getting in and out of a kayak. If you can practice in water, that is ideal.
9. Protection from Sun
The sun can be deceptive in the amount of exposure you receive while paddling the river. When you are preparing for your kayak tour, remember to wear sunscreen and a hat for the basic level of sun protection.
10. Always Wear a certified Personal Floatation Device(Life jacket)
This seems like it is an obvious one, but people sometimes discount the importance of a PFD or underestimate the water levels. It is always important to take precautions where you can, and a PFD is a vital element to safety and kayaking.
11. What to wear?
Swimwear or shorts or convertible pants
Rashguard top or moisture-wicking T-shirt or long-sleeve shirt
Neoprene footwear
Sun-shielding hat
Cap retainer leash (optional)
Paddling gloves (optional)
Sunglasses with glasses retainer attached
Sunscreen (SPF 30+ and water resistant)
12. What to bring?
Recommended for Short, Recreational Outings
Personal flotation device(1 per paddler)
Dry bag for personal items
Signaling whistle
Water in bottles
Insect repellent (as needed)
Recommended(additional) for Extended Trips / Overnights
Paddle float
Headlamp/light with extra batteries (in case you're out after last light)
Bilge pump
Spare hand paddle
Spray skirt (for cold weather/water)
Paddling knife (attached to PFD)
Towline
Maps and charts in waterproof case
Compass (that floats)
Watch
Weather/approved VHF radio (+ local emergency channel list)
Dry bags (variety of sizes)
Paddle leash (optional)
Large sponge
Float bags
Emergency flares or strobe
GPS (loaded with map files)
Two-way radios (esp. by expedition guides)
First-aid kit
Snacks like energy food or lunch
Cellphone in protective bag/case(for expeditions)
Small amount of cash
"A rough day at sea is way better than a good day at work. All you need is vitamin Sea;"